October 05, 2021
Systemic Lupus Erythematosus Patients With and without Renal Involvement: A Real World Analysis Showing Demographics, Clinical and Treatment Differences Across More Than 1,000 Patients
Authors: Maxine Yarnall, Tucker Hurtado, Vibeke Strand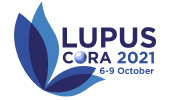 BACKGROUND and AIMS:
present significant challenges in management. This study was to evaluate moderate to severely active SLE patients and determine overlapping characteristics and significant differences among this cohort of SLE patients with and without renal involvement.
METHODS:
1,010 SLE patient records were collected in collaboration with 213 US rheumatologists via an online survey platform from 2/24/21 through 3/22/21. Patients were ≥ 18 years old with diagnosed SLE and treated with at least one prescription agent.
RESULTS:
While women make up the majority of SLE patients overall, males are over-represented among those
with renal involvement (figure 1). Other significant differences exist in disease manifestations (figure 2).
Physicians more often consider their SLE patients
with renal involvement as "severe" and to have "high disease activity." (figure 3) Treatments are often different between the two patient types (figure 4).
CONCLUSIONS:
SLE patients with renal manifestations often have multiple other manifestations of their disease and more diagnosed comorbidities, adding significant complexity to their treatment and care regimens.
DISCLOSURES:
VS: adjunct professor, division of Immunology and Rheumatology, Stanford University; USA
MY, CF: Spherix Global Insights, Exton, PA, USA
Archived LUPUS & CORA Abstracts:
2021